adventure package
Hotel room, breakfast, dinner, hot toddy, snowmobile and ice cave tour included.
GET READY FOR AN ADVENTURE
This is the package for you who love adventure and excitement! Enjoy fun activities, good food and a comfortable stay with us. Remember to bring a camera, because this is perhaps the most photogenic time of the year.
Travel period between 7 February and 15 May 2022
UNIQUE AND BEAUTIFUL LIGHT
This package is available from February to May. During these months, a lot of fascinating changes in light happen. In February, daylight slowly returns after the long and dark polar night. The sky is coloured in amazing pink and purple nuances, and in the evenings, it is also possible to see the northern lights. In early March, the sun finally peeks up over the horizon and you can enjoy long sunsets. As time goes on, the days get longer and brighter. In mid-April, the midnight sun is already present. Eternal light and beautiful white landscapes is a unique and wonderful combination.
SNOWMOBILE TOUR TO ELVENESET
If you are on Svalbard during these winter months, it is almost a must to go on a snowmobile tour. That is why we have included a fantastic trip to Elveneset in this package. The tour has a total length of 70 kilometers and takes you through varied landscapes and several beautiful valleys. Arriving at Elveneset you come to a fantastic viewpoint, where you can see over the fjord Tempelfjorden and the well-known mountain Tempelfjellet. This mountain is 766 meters high and got its name from its structures in the mountain wall, that resembles temple ruins. Here you will enjoy a hot drink before heading back to Longyearbyen.
Ice cave
Get ready for another experience you will never forget! On this trip you get driven up to the glacier Longyearbreen in a snowcat. This is a fun and comfortable vehicle, and during this short trip you can enjoy the fantastic views through the large windows. Once at the entrance to the ice cave, you will be equipped with spikes, a headlamp and a helmet. This is where the adventure begins! To descend into an ice cave and explore the frozen meltwater channels is something completely unique. As you move deeper and further into the glacier, you will fully understand the expression "beyond words".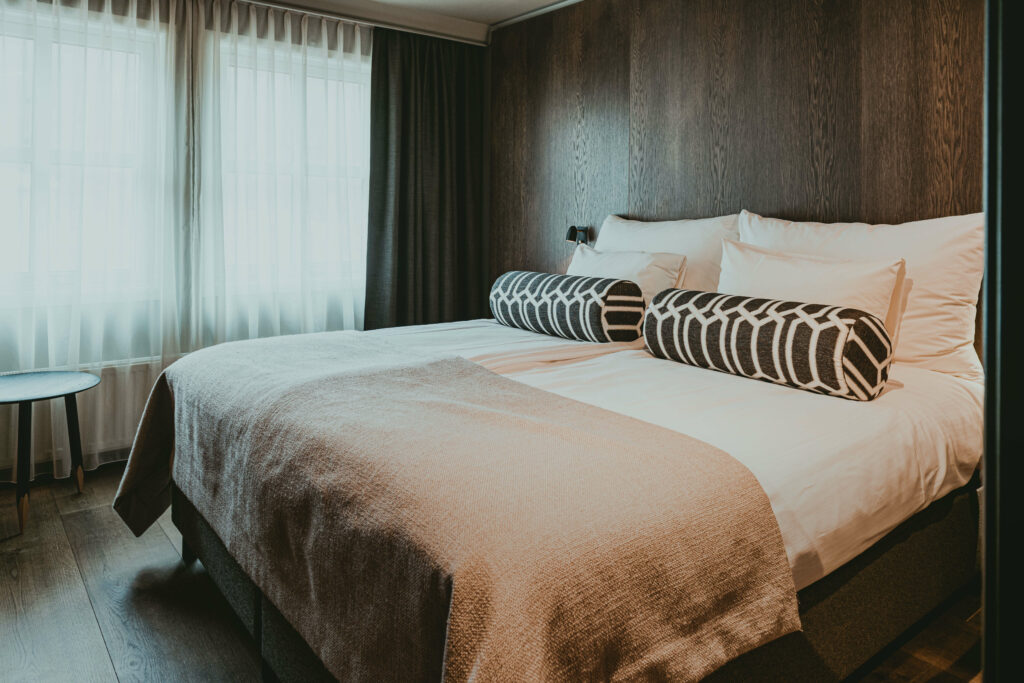 Three nights in desired room category
Breakfast buffet every morning
Snowmobile tour to Elveneset
Ice cave tour with snowcat
Hot toddy in Funken Bar
A three-course dinner in Funktionærmessen Restaurant
Price from NOK 7,560 per person (in a shared double room)