STAYCATION
Enjoy a staycation home in Longyearbyen. Stay one night at Funken between December 13 and January 15, at a special price for locals!
STAYCATION FOR LOCALS
Take a well-deserved break from all the Christmas stress, and treat yourself to a night at Funken Lodge. We now offer a lovely staycation for you as a permanent resident on Svalbard. In addition to a comfortable overnight stay, you get to indulge in a 7-course dinner - and of course our popular breakfast buffet. Lean back, unwind, and enjoy our luxurious oasis in Longyearbyen.


The offer is valid for stays between December 13, 2021* and January 15, 2022
When you stay at Funken Lodge, your comfort and experience is our highest priority. Our heavenly beds ensure you a good night's sleep, and all our rooms have bathrobes and slippers. A coffee machine and a good selection in the minibar are also to be found in your room. Remember to bring proof of residence or alcohol card when you check in.

*The offer is not available for booking on December 24 and 31, 2021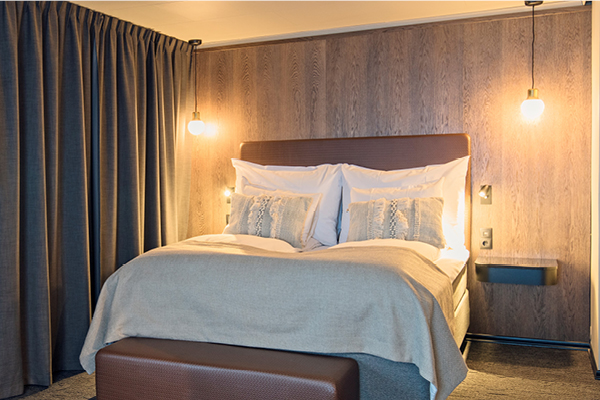 One night in desired room category
"Afternoon Treat" in Funken Bar
A 7-course dinner in Funktionærmessen Restaurant
Breakfast buffet
Free cancellation up to 48 h prior to check in
Payment upon booking
Alcohol card/proof of residence is required at check in
Price: NOK 1550,- pr pers in double room / NOK 1900,- in single room
One night in desired room category
"Afternoon Treat" in Funken Bar
A 7-course dinner in Funktionærmessen Restaurant
Breakfast buffet
Free cancellation up to 48 h prior to check in
Payment upon booking
Alcohol card/proof of residence is required at check in
Price: NOK 1550,- pr pers in double room / NOK 1900,- in single room
BOOK AN EXTRA EXPERIENCE: